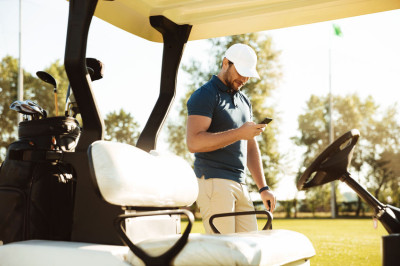 Summer is here, and there's no better way to spend it than sending your golf balls over the green. Lake of the Ozarks is one of the most naturally beautiful spots in Missouri, with its clear skies and rolling green hills. It's no wonder that the region is rapidly becoming one of the most tourist-heavy areas in the state, winning the hearts of incoming visitors and current residents alike. We want to capture a little of this summer magic—so we've made a guide of the top spots to putt and soak in the gorgeous sunshine. Read on to learn about these golfing spots that make the Ozarks so special!
1. Osage National Golf Resort
The Osage National Golf Resort is one of the top places to golf in Missouri and has a rich history behind each mile of green. 18 out of the 27-course holes were designed by Arnold Palmer—an avid golfing legend and star from the mid-1950s onward. Visitors can easily book tee times online, and do not have to be a registered member to golf on the grounds. Membership has its perks, though. If you choose to join the club, you can enjoy unlimited range balls, 24-hour health club access to the green's top-rated health facility, exclusive discounts, and more. The grounds are also a gorgeous place to book your next big event, which is perfectly suited for when you want to host your next special celebration. These perks, combined with a classically-designed clubhouse and eatery space, make Osage National one of the top resorts that you can enjoy the next time that you want to get out and golf.
2. The Lodge of Four Seasons
The Lodge of Four Seasons is just as luxurious as it sounds. This hot spot is home to not one, but two championship courses, known as The Ridge and The Cove. These dual greens are equipped with jaw-dropping views of the surrounding chain of lakes, as well as full-scale clubhouse grilles and gathering spots that are designed to fit hundreds of visitors. What sets the Lodge apart from other golf courses is its commitment to excellence and tech upgrades—making this the perfect spot to take your more tech-savvy family members and friends to celebrate your next win or weekend on the green. The Lodge features a reward program as well, offering additional opportunities to win simply for stopping by and taking a few swings.
3. The Oaks at Margaritaville Lake Resort
The Oaks at Margaritaville is just as relaxing as it sounds. When you visit this luxury stop, you'll be greeted with expansive green fairways and natural botanical beauty. The Oaks has a little something to offer everyone, featuring a completely inclusive resort on the green. They offer a traditionally-inspired Eastern spa experience, an indoor water park, a marina, and more, making this fun for the whole family. Golfers can enjoy an 18-hole Championship experience, along with a variety of traps and water hazards for some added fun. They also offer unique specials and events frequently, making this one of the most accessible golfing resorts to enjoy on those lazy summer days.
Lake of the Ozarks is the place to be in 2022 and beyond
Are you looking for property management help in the Ozarks region? PMI Lake of the Ozarks is proud to be your vacation rental specialists, offering end-to-end assistance for your vacation home rental. We support you throughout the listing process and partner with you in your success after—assisting you with requests ranging from resident assistance to maintenance needs. For more information, please visit our website.