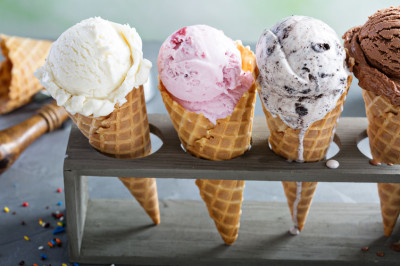 Looking for the perfect way to wrap up a long summer's day? Settle in with your favorite sweet treat from a Lake of the Ozarks summer spot! We know that there are so many places to choose from when you summer in this lovely corner of the country, but we're here to show you the best places and treats that you can enjoy that capture the true essence of a Missouri summer. Are you ready? Let's dive into the top summer dessert spots that you can enjoy in Lake of the Ozarks!
1. Grandpa's Ice Cream and Pies
If you're looking for a one-of-a-kind traditional ice cream parlor experience, this is the dessert spot for you! This local favorite is home to over 48 different flavors of sorbets, sherbets, and ice cream that will leave you wanting more with every bite. This family-owned gem offers freshly baked pies daily, and has served the people of Lake of the Ozarks for years. You can catch Grandpa's at the local summer festivals and fairs and out of their flagship location at Bagnell Dam Road. If you're looking for a sweet cream treat or a delicious slice of homemade pie, be sure to stop on by and grab a slice before you keep going on your summer adventure in the Ozarks.
2. Andy's Frozen Custard
Custard is like ice cream's better, richer, and more luxurious cousin. Andy's has been creating regional and seasonal treats and eats for the whole family since its launch in 1986. Andy's knows desserts and has created custom malts, custards, shakes, and sundaes for the Ozarks crowd for over 20 years. The brand features classic flavors, too, including banana pecan, vanilla, chocolate, and more. The best part? You can bring the dessert party to your rental spot by purchasing a pint and supporting an Ozarks-local business while you're at it! Be sure to drop into Andy's the next time you're in the Lake of the Ozarks area!
3. The Donut Den
Just when you thought that donuts couldn't possibly get better, they get an entire facelift. The Donut Den is continuing to push the boundaries with this tasty treat, coming up with new and exotic creations you'll love. Fan favorites include donut holes, iced donut cakes, regular donuts, and personalized donuts with all of your favorite toppings to choose from. Donuts aren't just the final destination—at The Donut Den, you can make your donuts a blank canvas for additional customization and a delicious creation of your own. These tasty treats are a great desert of choice for any time of the day or night and are the perfect weekend accompaniment to coffee or tea.
4. Osage River Popcorn
The best desserts are the most unconventional, and Osage River Popcorn continues to overdeliver and redefine deliciousness. Their gourmet popcorn options have actually won awards thanks to their quality and taste, and continue to WOW the folks of the Ozarks for seasonal celebrations and gifting opportunities. Whether you're craving something sweet or savory, the team at Osage River Popcorn has the perfect midday snack for you. Featured flavors include jalapeno cheddar, Osage mix, chocolate mint, Cheese Lovers, and more.
PMI is here to help with your short-term rental needs
Lake of the Ozarks is becoming a year-round destination, featuring delicious eats and a climate that simply can't be beaten. The PMI Lake of the Ozarks team wants to help you make your short-term rental experience as seamless as possible. We offer end-to-end rental management and assist you with renter transition, maintenance needs, and listing help. Are you ready to experience the difference? Visit our website today to learn more about what we could do for your short-term Ozarks rental prop